Are you searching for out-of-the-box Christmas party ideas in London for 2023? Look no further! With our delightful array of cooking workshops, you can turn your festive gathering into a delicious culinary adventure. Here are seven irresistible reasons why a cooking class should be your go-to choice for a merry celebration this season.
You can explore culinary creativity
Whether it's mastering how to cook a vegan Christmas dinner or perfecting homemade pastry, our classes are designed to unleash your inner chef. They offer an exciting twist on traditional work Christmas parties and bring teams together in a fun and relaxed environment!
The team that cooks together, stays together!
Cooking together is an excellent team-building activity; it encourages collaboration, communication, and creativity. These shared experiences not only foster stronger bonds but also create lasting memories - ideal for colleagues seeking more than just a festive party.
A cooking class will teach you new skills
Our comprehensive workshops range from chocolate making to cake decorating, allowing you to pick up valuable kitchen skills while celebrating the Yuletide spirit with friends or colleagues!
Experience festive Vegan delights
With our specialised courses, even those opting for a vegan lifestyle won't miss out on the festive feasting! Learn how to prepare a sumptuous vegan Christmas dinner that will wow even the most discerning meat-eaters at your table.
A baking class will help you perfect your pastry
Christmas baking forms part of many people's holiday traditions, and our baking workshops offer an opportunity to master delicious recipes that you can recreate at home over the holidays. From warming gingerbread to rich and fruity mince pies and super satisfying stollen, there's something for every sweet tooth!
Create a Christmas showstopper with cake decorating workshops
Our cake decorating classes provide all the fun of getting messy with icing and fondant without any of the clean-up! It's perfect for injecting some edible artistry into your Christmas celebration.
A chocolate making experience will satisfy that sweet tooth
Who doesn't love chocolates for Christmas? Our chocolate making workshops are not just highly interactive but also result in delectable treats that can double up as personalised gifts or dessert for the festive table.
Culinary Christmas party ideas will help you make marvellous memories
This Christmas, break away from the usual dinner parties or pub gatherings. A cooking class is a fantastic way to make lasting memories with friends, family or colleagues.
You can satisfy hungry tummies
The best part of our cooking workshop is that you get to eat what you make! You'll end the day with full bellies and cheerful hearts – the perfect recipe for a festive gathering.
You'll bond over a shared experience
Sharing a meal is one of the most intimate experiences people can have and cooking together only elevates this further. It helps strengthen relationships, making it an ideal choice for any festive party.
Our cooking workshops offer fun-filled and engaging Christmas party ideas in London. Whether it's a work Christmas party, a family gathering, or just getting together with friends, our classes provide a unique and memorable way to celebrate the season. So why wait? Spice up your holiday festivities by booking a ClassBento cooking class today!
Gift a unique experience
Pick a fun experience for them, or let them choose from our thousands of creative classes and kits.
Valid for 3 years.
card_giftcard Get a gift card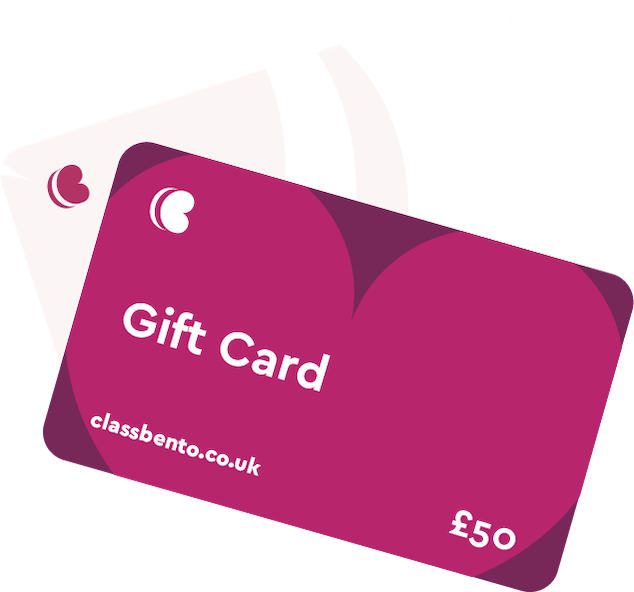 Cooking workshops in London