Fancy getting your hands on some cool craft experience days in 2023? London is a bustling epicentre for arts and crafts, boasting thousands of engaging workshops and more than 170 galleries. Without a doubt, the best way to explore the wealth of creativity on offer is with our workshop experience gift cards!
London is renowned for its famous landmarks and tourist attractions, but it also boasts a plethora of hidden treasures that only the locals are privy to. Whether it's intimate bars where you can master trendy cocktails or artist collectives offering workshops on pottery and fluid art, there's truly something for everyone in this bustling metropolis.
Keep reading as we reveal why London craft classes are so amazing before highlighting some of the city's most unique adventures for passionate potters and Picassos.
What's so amazing about London craft classes?
There are so many reasons to love craft classes in the capital. Not only do they make exciting alternatives to London's top attractions, but they offer a treasure chest of mood-boosting benefits.
If you're feeling stressed out and living in a bustling city, getting into crafting can be a great way to relax. It's almost like meditation! The repetitive motions involved in making things like pottery can help calm your body and mind. Plus, these activities can trigger the release of serotonin, which is a hormone that helps you feel good and less anxious. You might find that you sleep better and have more pleasant digestion, too
Plus, tackling DIY projects improves self-esteem and confidence. Even the shyest students can morph into master crafters under the guidance of expert teachers, developing life-affirming skills that'll serve them for decades to come.

When you give an experience as a gift, you also support local artisans and the underground community in your area. When you purchase experience gift cards, this fuels the crafty collective and their creative spirits. So if you know an artistic pal, these gift voucher ideas could be exactly what you need.
6 London gift experiences for keen crafters

1. Get messy with pottery wheel throwing
A beginner's pottery wheel throwing class in London is a rare opportunity to release inhibitions! The goal isn't perfection but to enlist the senses, smoothing and shaping wet clay into beautiful handmade pots. If you know someone who's particularly anxious, this tactile experience will ground them through the power of touch.
At the beginning of the class, the instructor gives a quick and helpful rundown of the materials, techniques, and basic wheel throwing skills. Then, they do a demo that is easy to follow. The class is kept small, with a maximum of two students, so the instructor can give plenty of one-on-one attention to help everyone improve their moulding skills.
Wheel throwing isn't always as straightforward as Ghost would have you believe, but it could be equally romantic if booked for Valentine's Day! Although, Unchained Melody in the background might be a step too far.

2. Handcraft gorgeous ceramic kitchenware
Wheel aside, this clay hand-building pottery class in London is the gift that keeps on giving! Participants follow their fingers to construct striking ceramic bowls, mugs and plates to fill their kitchen cupboards.
At this laid-back studio session, you'll get to use traditional techniques like pinching, coiling, and slab building to create your own unique clay pieces. Once you're done, you can let your creativity shine by painting your creation with lots of vibrant, specialised colours. It's a great way to unwind and make something beautiful at the same time.
After the class, the pottery studio fires and glazes the pieces for a velvety smooth finish. They'll look so professional, it'll be tricky to convince friends they didn't come from the shop shelf!
3. Create adorable plant pots
Plant mums with green thumbs are sure to adore this nifty ceramics workshop, where they'll design a selection of homes for their beloved blooms and bulbs.
In a well-stocked studio in Peckham, talented Titchmarshes discover the ins and outs of extruding clay into coils for a professional finish. Then, they'll hand build either a large plant pot for grandiose greenery or a series of mini containers for succulents.
For those feeling especially wild, there's even a chance to have a go on the throwing wheel!

4. Soak up the sun with an alfresco art class
Lovers of all things luxurious should look no further than this plein air paint and wine class tucked away in the tranquillity of Hyde Park.
When you arrive, you'll have the chance to select from a variety of mediums to work with. As you paint and soak up the sunshine, you can sip on some delicious wine and enjoy a lovely picnic. Plus, our amazing teacher is always there to offer their insights and advice, so you can truly let your creativity shine!
This decadent London art class is ideal for special occasions, so why not use an experience gift voucher to gather your loved ones for a big birthday celebration, hen-do or team-building event? There's nothing more bonding than brushstrokes and wine glasses!

5. Drink and draw a masterpiece
From wacky caricatures to lifelike portraits, this London drink and draw workshop is a thrilling escapade into the world of art! With help from a pencil pro, enthusiastic pupils pick up a wide range of tips and tricks to produce unparalleled masterpieces.
In this art class, students get to explore their creativity by trying out different techniques and finding their unique style. The instructor is incredibly talented and has a wide variety of drawing skills to share, so everyone can have a personalised and enjoyable experience.
By the end of these art experience days, everyone walks away with personal masterpieces to display with pride. There's even an option to purchase the equipment to continue sketching up a storm at home!

6. Create a piece of wearable art at a silversmithing class
Whether you're looking for a next-level gift for a special friend or family member or you want to treat yourself to the gift of a new skill, this silversmithing class will see your lucky recipient crafting a beautiful, bespoke ring they can cherish forever.
In this class, even if you're a complete beginner, you'll learn everything from sizing a ring to sawing, soldering and hammering to create a beautiful piece of jewellery that you'll cherish for a lifetime. Despite the fact that it's only two and a half hours long, the amazing teachers will make everything seem simple and easy!
At ClassBento, we have a staggering collection of experience gift cards that cover the best arts and crafts classes in London and across the UK. Alongside activities for potters and painters, there are hundreds of knitting, crocheting and mosaic making classes to peruse.
Everyone has a chance to explore their creative side with our craft experience days. Whether you're on the hunt for gifts for her birthday or a couples anniversary present, our art experiences and crafty classes are ideal. Plus, you're lucky recipient has three years to pick their favourite activity and date.
What are you waiting for? Browse our gift cards today and spoil your loved one with an unforgettable crafty day out in the capital!
Gift a unique experience
Pick a fun experience for them, or let them choose from our thousands of creative classes and kits.
Valid for 3 years.
card_giftcard Get a gift card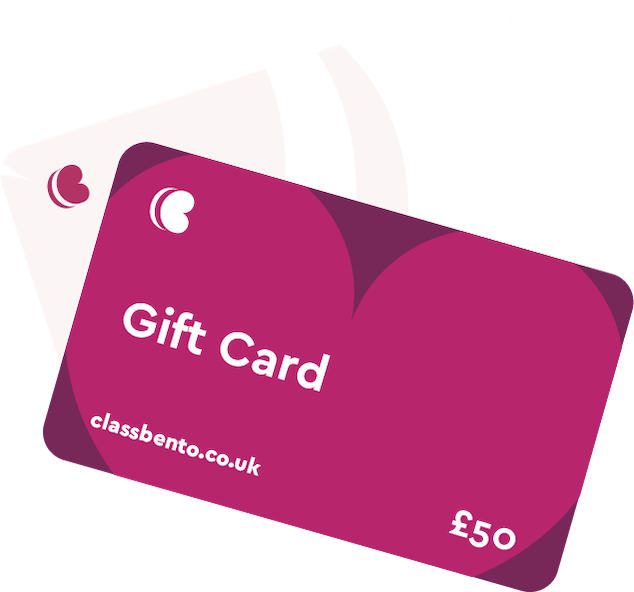 Suggested workshops in London