The Creative Visionaries
It was a love for authentic Chinese, Japanese, and Korean cuisine that sparked the culinary journey of husband and wife team Simon and Hanna back in 2012. Driven to share their foodie passion with the world they launched Simon and Hanna's Foodie Kitchen, a cooking school nestled in North London. It didn't take long for their commercial cooking classes to evolve into a full-time business loved by London locals.
Today, Simon and Hanna's Foodie Kitchen is a bustling hub of gastronomic delights. With more than 20 vibrant cooking classes and five tantalising tasting sessions on offer, they blend traditional techniques with contemporary culinary trends and teach students from across the country their kitchen secrets.
The Business Hurdle
Launching an artisan business like Simon and Hanna's Foodie Kitchen is a huge creative undertaking—but marketing and securing consistent bookings is a whole other ballgame. Despite having tremendous culinary skills and a love for teaching, regularly filling their cooking classes with enthusiastic learners quickly became their greatest challenge.
They tested out other booking platforms such as Square and invested in marketing but felt frustrated with the complicated booking system and unimpressive results compared to the money spent.
"There were not enough bookings to keep the business going… The amount of money spent on social media marketing did not get any results." - Simon Wang, Founder of Simon and Hanna's Foodie Kitchen
That's when ClassBento came along.
The Game Changer
Since joining the online booking platform in March 2021, Simon and Hanna have been savouring a consistent surge in bookings, with their monthly workshop revenue increasing by over 6000%! As a team, ClassBento, Simon and Hanna have managed to cook up quite the recipe for success, and this small business is kept busy with bookings every day.
"The greatest achievement is that we have at least one booking from ClassBento every day now. It definitely gives us the confidence to carry on doing what we love." - Simon Wang, Founder of Simon and Hanna's Foodie Kitchen
Thanks to ClassBento's sophisticated marketing strategy, over 1000 students have walked through the doors of Simon and Hanna's Foodie Kitchen since joining. With an extended team of SEO content specialists working behind the scenes, Simon and Hanna's Foodie Kitchen appears among the top three hits when anyone searches for "North London cooking class". And all this without having to pay extra for Google Ads!
Even setting up classes has become as simple as rolling sushi with ClassBento. As the market-leading booking system built specifically for artisan experiences, ClassBento's user-friendly backend has streamlined Simon and Hanna's process of managing class timings and dates. It delivers a great alternative to Square, but also offers customers a booking journey that is as smooth as a custard bun.
"ClassBento's website is designed purposely for booking classes. Therefore it is very easy for us to set up times and dates for each class. As a result, customers can easily book the class they want." - Simon Wang, Founder of Simon and Hanna's Foodie Kitchen
Another favourite feature for Simon and Hanna is the industry-leading BentoAI. This AI tool enables them to effortlessly create captivating class descriptions within seconds, enhancing the platform's accessibility for teachers from diverse backgrounds and cultures.
"The new AI function is brilliant as well. As we are not native English speakers, posting online is hard work... The AI made listing classes, posting online and replying to reviews easier for non-English speakers like myself." - Simon Wang, Founder of Simon and Hanna's Foodie Kitchen
A Milestone Moment
Simon and Hanna have also found their ClassBento Growth Partner, Gemma Nolanto be an ongoing and invaluable support.
"The ClassBento staff have been very helpful from day one. Gemma is the one we contact all the time. She is always nice and patient… Gemma is always there for us." - Simon Wang, Founder of Simon and Hanna's Foodie Kitchen
This kind of dedication and personalised customer service is what makes ClassBento the perfect partner to support every teacher through the highs and lows of their business journey. Sometimes, all it takes is the right platform for small entrepreneurs to unlock their full potential.
The majority of Simon and Hanna's bookings are now facilitated through ClassBento, attracting customers from all over the globe. This transformation has empowered them to continue pursuing their passion and helped their business to thrive in a challenging climate.
Join ClassBento and transform your creative business today
ClassBento's mission is to improve mental wellbeing through creative experiences. Our community is growing and our audience is eager for more of what teachers offer, so if you're already on the platform, we recommend adding more classes and instantly bookable dates.
To join ClassBento, head to our sign-up link and get set up today! Our Growth Partners are always ready if you need advice or have questions about the next steps to grow your business.
For more small business success stories, read how The Avenue Cookery School in London tackled their communication woes and slashed their admin time with Classbento.
Gift a unique experience
Pick a fun experience for them, or let them choose from our thousands of creative classes and kits.
Valid for 3 years.
card_giftcard Get a gift card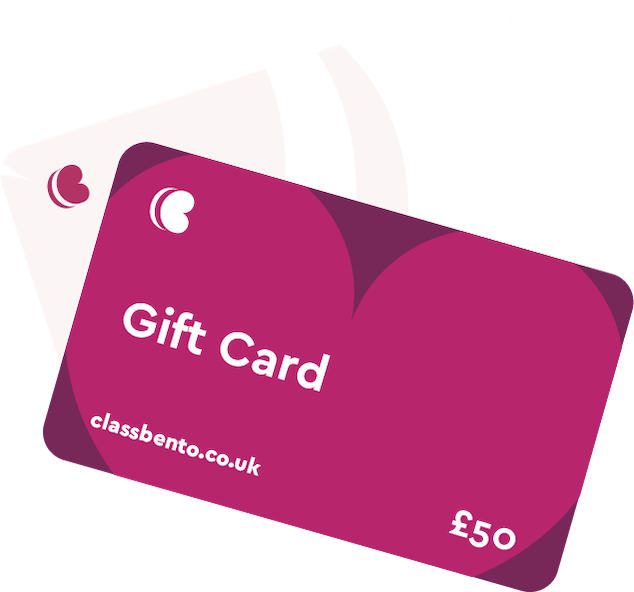 Cooking workshops in London