Put the icing on the (Christmas!) cake this festive season by choosing unique experience gifts in Leeds! We've got a delightful array of workshops that will not only surprise your loved ones but also create cherished memories – so if you've been searching for present ideas with a difference for 2023, you've come to the right place.
Experience days are meaningful and memorable
This Christmas, why not ditch the traditional presents and give a gift that lasts a lifetime? Experience gifts aren't just items that collect dust; they create lasting memories. When you gift an experience, you're giving the joy of learning, exploring, and enjoying something new. Let them make their own coffee cup, knit their own socks or create their own bespoke perfume!
ClassBento's unique experience gifts in Leeds cover a wide range of interests, from pottery and painting to cooking and cocktail-making. Whether your loved one is a budding artist, a foodie, or an adventure-seeker, there's a workshop that's perfect for them.

Put a smile on their face with personalised gifts
Finding the right gift can be a daunting task, especially if you want to make it unique and personal, but experience gifts offer the perfect solution. You can completely tailor your gift to the recipient's interests and passions.
Choose from an array of workshops to match your loved one's hobbies and preferences, from cosy crafts such as knitting and macrame to flavour-filled cooking sessions and lively cocktail making experiences. Imagine their delight when they receive a personalised experience that reflects their true interests!
A gift experience reduces clutter
One common problem with traditional gifts is that they often add clutter to our lives, but experience gifts, on the other hand, are clutter-free. They provide the joy of an exciting adventure without taking up space in your loved one's home.
Our workshops in the city are designed to be enjoyable, educational, and clutter-free. They encourage participants to create, learn, and experience new things without collecting more physical possessions – aside from whatever wonderful creation they make, that is!
Explore our diverse workshop selection
Our huge range of classes makes it easy to find the perfect experience gift for anyone on your Christmas list. From art and craft workshops to culinary adventures and wellness activities, there's something for everyone.
For the art enthusiast, choose a pottery or painting class – what could be better than sitting down to make DIY Christmas decorations or spin up a storm at a wheel throwing workshop? Foodies will love cooking or cocktail-making workshops, while those in need of relaxation can enjoy candle making, perfume creating and meditating. The perfect antidote to the busy festive season!
Have fun with our expert instructors
The success of any workshop depends on the expertise of the instructor, and all of our sessions are led by skilled professionals who are passionate about what they do. This commitment to quality ensures that your loved ones will have the best learning experience possible!
Whether your gift recipient is a complete beginner or an experienced hobbyist, our instructors provide guidance and support, making each workshop enjoyable and fulfilling.
Unique experience gifts in Leeds are fully flexible
Christmas is a busy time, and finding the right time to attend a workshop can be challenging, which is why we offer completely flexible booking options. Your loved ones can choose a date and time that works best for them, ensuring a stress-free and enjoyable experience.
Unwrap the possibilities: A journey through our Leeds workshops
Pottery Workshops
Imagine the joy on your loved one's face when they receive a gift that allows them to unleash their creativity through pottery. Our ceramic making classes in Leeds provide the opportunity to mould, shape, and decorate beautiful ceramic pieces. They'll learn the art of pottery under the guidance of skilled instructors and leave with unique creations they can proudly display or gift to others.
Art and Craft Classes
For those with a passion for creativity, we've got a wide range of art and craft workshops. From acrylic painting to macramé, your loved ones can explore their artistic side and create stunning accessories for their home and wardrobe. These classes are not just about making something marvellous, they're also about self-expression and having a great time.
Culinary Adventures
If your loved ones are foodies, why not treat them to a culinary adventure? Our cooking and cocktail making workshops in Leeds are perfect for those who enjoy experimenting in the kitchen or shaking up delightful mixed drinks. They'll learn from expert chefs and bartenders, gaining new skills and discovering delicious recipes to impress family and friends.
Mindfulness and Wellness
Christmas can be a hectic time, and the gift of mindfulness and relaxation is going to be met with some serious smiles. Whether you're giving your loved one the chance to inhale peace with an aromatherapy soy candle class or letting them relax and unwind with a yoga or meditation workshop, providing your loved ones with tools to reduce stress is the perfect gift.
Share the Gift of Experience
This festive season ditch the traditional gifts and embrace a more memorable approach with our unique experience days in Leeds. You'll not only give a gift that sparks joy but also provides an opportunity for creativity, shared experiences and unforgettable memories. So go ahead – bring a sprinkling of creativity into Christmas this year and brighten up someone's 2023 with one of our many captivating workshops today!

Gift a unique experience
Pick a fun experience for them, or let them choose from our thousands of creative classes and kits.
Valid for 3 years.
card_giftcard Get a gift card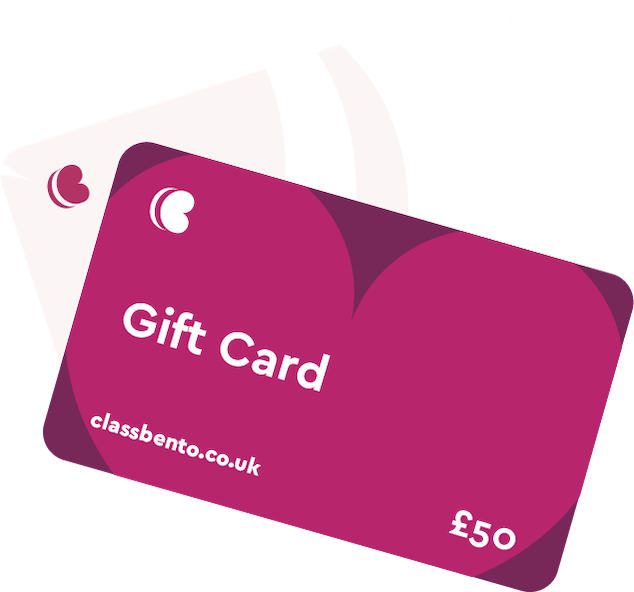 Suggested workshops in Leeds