Despite being marketed as self-indulgent and expensive, self-care is actually any type of practice which is joy-giving and life-enriching. That's it. It's making sure you eat properly and get the right nutrition – but it's also indulging in a wonderfully decadent chocolate cake when you think this will make you feel good. It's tending the garden on a warm spring day while the air hums with new life. It's learning to set boundaries and say 'no'. It's manicures, massages, museum trips and movies. And yes, it's the always popular (but now slightly clichéd!) steaming bath filled with heady scented oils.
Not limited to bubble baths, brownies and breathing, self-care can also include carving out time for creativity. Studies have shown that indulging in creative practices can reduce feelings of anxiety and depression, help to lower stress levels and boost positive emotions, leaving you calmer and more content – you don't need to be the next Picasso either! Creativity comes in many forms; designing a fragrant herb garden and blending scents into handmade perfumes are just as creative as picking up a paintbrush and producing a watercolour masterpiece. Basically, if it fires your imagination and fills you with joy – get stuck in!
Not the crafty type? You don't need to be. Self-care is all about bringing a touch of joy to your life – so let us help you dive into an ocean of creative calm with these simple ideas.
Spark joy with clay making
If you've been inspired by the wonderful wheel-throwing wizards of the Great Pottery Throwdown, grab some clay and get stuck in! Pottery and clay making are well known for helping to ease stress and anxiety, and they've even been shown to alleviate symptoms of PTSD – the repetitive techniques involved in handbuilding or pottery wheel work are immersive, meditative and soothing, which is why it's such a great option for anyone feeling a little frazzled.
Start simple and forget aiming for perfection. Creative self-care is as much about the process as it is about the finished product, so if your new mug is a little wonky, who cares? Imperfection makes an object unique, and gives it that individual handmade vibe – and plus, as long as it holds your giant morning coffee, then we reckon that's a win!
Tend your garden, soothe your soul
From stepping outside and taking a stress-beating breath to spending a happy few hours wandering in the woods or sowing seeds in the warm afternoon sun, the healing power of nature is nothing short of magical.
Taking your creativity outdoors doesn't mean you need acres of land or lots of expensive gardening equipment to hand either – a windowsill or balcony is more than enough space to create a herb garden (fresh peppermint tea, anyone?), and if you're lucky enough to have a little more room then try experimenting with a few different bee-friendly flowers and tasty veg varieties. Alternatively, bring the outside in and head off on a houseplant adventure, or surround yourself with bunches of beautiful blooms and try your hand at flower arranging.
The key here is to remember that even the smallest successes are creative wins – so whether you end up with a fully grown vegetable garden, or just enough tomatoes for a summer salad, it's a triumph!
Get cosy with yarn crafts
Sometimes, nothing beats the blues like getting cosy at home on the sofa – which is pretty much the perfect place to unleash your creativity with some super-soft, ultra squishy yarn! Repetitive, relaxing, and the ideal accompaniment to the newest series of Is It Cake on Netflix, knitting and crochet have been shown to boost brain function and release a shot of that wonderful neurotransmitter, serotonin. So grab a cuppa, put your feet up and get ready to craft!
Working with yarn can take some getting used to, so if you spend the first few hours getting tangled up it's 'knot' (sorry!) a reflection on your crafting skills. Learning where to put the hook or needles and exactly how to create the stitches takes time, so cut yourself some slack and just enjoy the process. Start with something simple, like a striped scarf in deep jewel tones or soothing pastels, or master the art of the humble multi coloured granny square – a true crochet classic! Before you know it, you'll be knitting, purling and cabling with the best of them!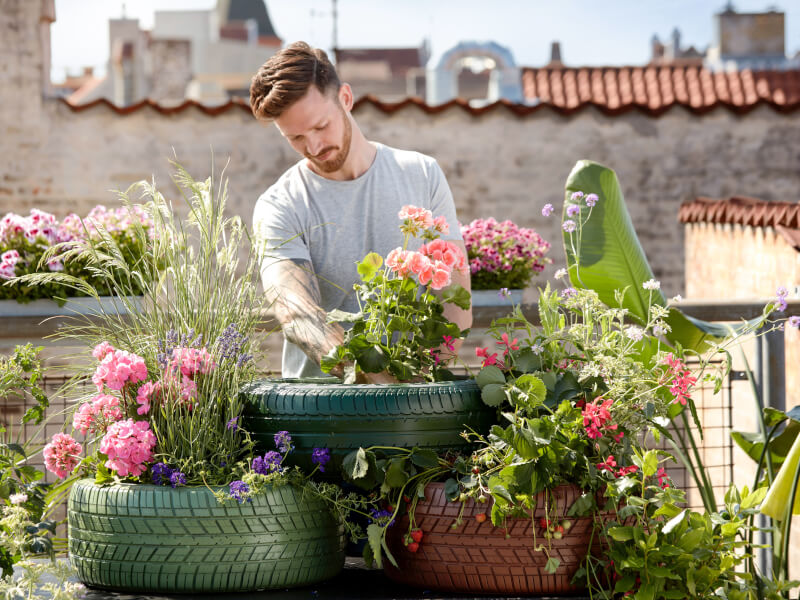 Love your home, lift your mood
Did you know that well lit, bright rooms can improve low mood, while spaces that are welcoming and free of clutter often help to alleviate anxiety? Which means that using your creative self care time to enhance your surroundings is a double win!
If you're the practical type with an eye for a bargain, head off on a thrifting trip to find some hidden furniture treasures just ripe for a makeover. An upcycling project is great for focussing the mind, and you'll learn plenty of handy DIY skills to boot – you might start your creative journey by simply painting an old cupboard, but give it time and you'll be dovetail-ing your way to speedily to self-care success!
If textiles are more your thing, spending time learning to sew is going to help you fill your bed or sofa with beautiful handmade cushions, blankets and throws, while mastering the art of macrame means you'll be able to create perfect plant hangers and wonderful wall hangings. We can't think of anything more soothing than switching off completely and losing yourself in embroidery stitches, macrame knots and piles of beautiful trimmings!
Self care has never been more popular – or more necessary. The after-effects of a global pandemic, daily life stresses, workplace pressures and the often overwhelming social media landscape (because let's face it, nothing sends the blood pressure soaring like a dose of Insta envy!) mean that even the most resilient person might be feeling a bit, well, frazzled. Taking some time out with the right self-care tools is vital for mental health, and is the easiest way to get things back on track; so grab that gardening fork, strap on an apron, bury your hands in some clay and embrace self-care through creativity for a calmer mind, soothed soul and restored sense of wellbeing.
Health and Wellbeing workshops