As the festive season approaches, swap a traditional dinner date for something more creative in 2023 and get stuck into our Christmas wreath classes in London! Experience the joy of crafting together at one of our nature-packed festive workshops that will help you both to learn new skills, bond over a shared experience, and leave you with a beautiful DIY wreath to bring home – a festive symbol of your love.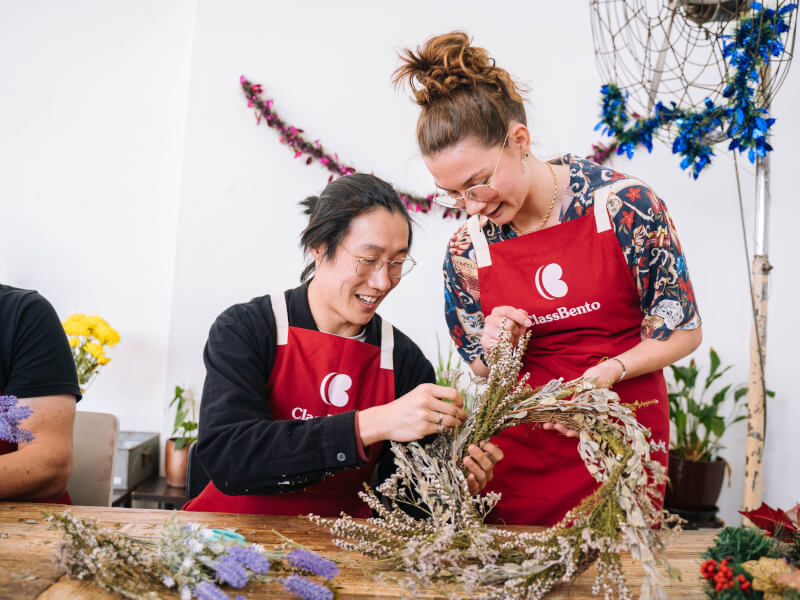 Festive wreath making will fill you with Christmas cheer
Nothing says 'Christmas' like a festive wreath adorning your front door. It symbolises warmth, welcome and seasonal cheer - even better when it's handmade by you and your partner! With guidance from our experienced artisans, you'll create your own unique masterpiece using seasonal foliage, decorative ribbons, and twinkling baubles. Whether you prefer traditional designs or modern aesthetics, these workshops cater to all tastes – so whether you're into pine cones or pom-poms, there's something for you! Plus, if you fancy staying cosy rather than venturing out into the cold London air, we've got plenty of festive wreath making kits to help you spark that Christmas spirit together from the comfort of your sofa.
Christmas wreath classes in London will cement those bonds
Heading off to a festive wreath workshop in the city offers more than just crafting; it's also about connection. Working together on a shared project can strengthen bonds as you navigate the creative process side by side – bouncing ideas off of each other, problem solving together and compromising on those all-important embellishments. There's nothing quite like the joy of seeing your finished product – a tangible representation of teamwork that will serve as an enduring reminder of this special time together!
Christmas crafts are a perfect way to ignite romance
In a cosy craft studio lit delicately by fairy lights, creating DIY wreaths can be wonderfully romantic. The gentle concentration required weaves an intimate atmosphere where everyday distractions are replaced with laughter and conversation. What could be more magical than taking home a festive wreath that represents your shared experience and commitment?
Crafty activities in London will help you relax this Christmas
Studies have shown that engaging in creative activities can reduce stress, enhance mental well-being, and promote a sense of achievement. These classes provide an escape from the hustle and bustle of daily life, allowing you to focus on creating something beautiful. Imagine the pride you'll feel when friends and family admire your festive wreath knowing it was a result of a special date night.
No experience? No problem!
You don't need to be an accomplished crafter to enjoy our Christmas wreath classes in London. Whether it's your first time getting creative with greenery or you've dabbled before, our teachers make sure everyone feels welcome, comfortable, and creatively challenged.
So as you plan your next date night this festive season, consider adding a nature-packed workshop to your list. You'll not only create a gorgeous DIY wreath but also memories that will last long after the Christmas decorations are packed away – and if you opt for a dried wreath, you'll be able to whip it out year after year!
So come on Londoners! Embrace the seasonal cheer as you dive into creativity with your partner at our enchanting Christmas wreath workshops in London – because there's nothing quite like a hand-crafted symbol of love adorning your door during Christmastime.
Gift a unique experience
Pick a fun experience for them, or let them choose from our thousands of creative classes and kits.
Valid for 3 years.
card_giftcard Get a gift card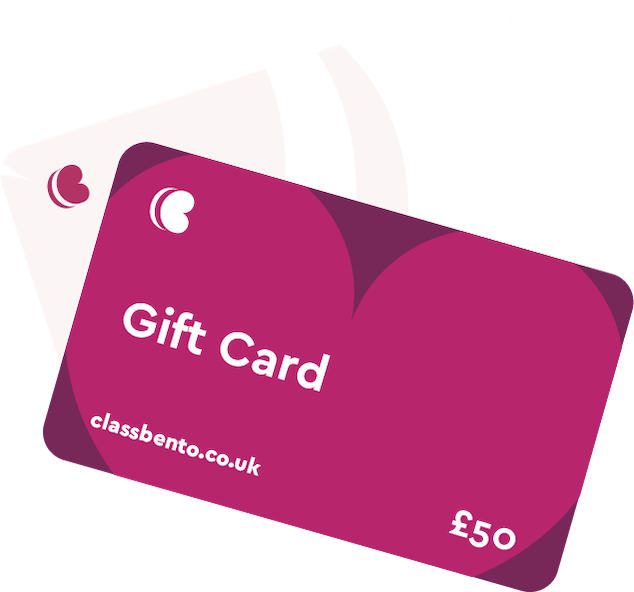 Christmas Wreath workshops in London