Plan a party with a difference this festive season with Christmas wreath classes in London! A DIY wreath making experience is not just an opportunity to learn and create; it's also a unique way to celebrate the holiday season with friends, family or colleagues. So whether you're in charge of the annual family get-together or you're searching for a way to thank your hard-working teammates at the end of 2023, you've come to the right place! We've rounded up 7 great reasons why a festive wreath workshop makes a great Christmas party idea – so grab your eucalyptus and let's go!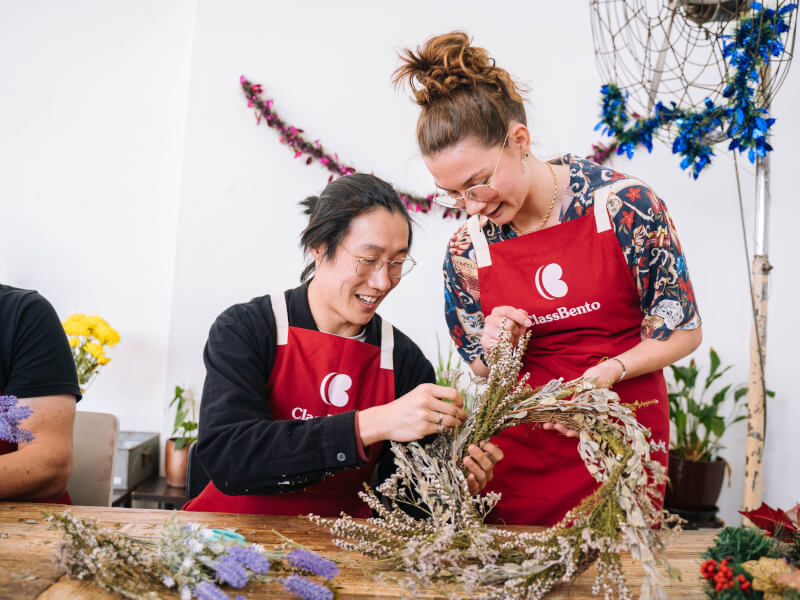 Create your own festive decorations
With our Christmas wreath making classes you can really let your creativity flow. These workshops provide you with everything you need for constructing your very own DIY wreaths – foliage, flowers, ribbons and bells. Under expert guidance, you'll craft a beautiful DIY wreath that can take pride of place on your front door, over the fireplace or serve as a centrepiece for your dinner table.
Christmas activities in London foster team spirit
If you're planning an office Christmas party or get-together with friends, why not consider ditching the usual restaurant celebration and opting for a creative session instead? A shared creative experience like this fosters team spirit and encourages bonding amongst group members. It gives everyone involved a chance to unwind, have fun and work together towards creating something truly beautiful.
Learn wreath making skills from the experts
Our workshops connect you with local artisans who are masters of their craft. Their passion for what they do is infectious and their guidance invaluable as you navigate through the process of creating your very own festive wreath. Whether you're a green-fingered floristry whizz or a total novice, they'll take you step-by-step through the whole process, knowing you're in safe hands. Even if you opt for one of our online classes or craft kits, you'll get the same expert teaching and beautifully fresh foliage – so you can craft your Christmas wreath in comfort!
Christmas wreath classes in London have something for everyone
The beauty of these workshops lies in their versatility - they cater to individuals of all skill levels! Whether you're someone who's never picked up crafting tools before or an experienced DIY enthusiast looking for new inspiration, there's something for everyone at these Christmas wreath classes in London.
Share a memorable experience with loved ones
Making a festive wreath isn't just about the end product; it's a journey of creation. The sense of achievement when you've completed your wreath, the laughter shared during the process, and the memories made are all part of what makes these workshops an unforgettable experience.
Be planet-friendly this festive season
DIY wreath making is also an eco-friendly way to decorate your homes this Christmas. By using natural materials, you're contributing to sustainability and reducing waste that is normally associated with mass-produced decorations. From locally sourced, seasonal greenery to recyclable wreath bases, our eco-friendly classes will show you how to make a Christmas wreath that's great for your front door – and the planet!
Festive wreath classes are flexible and convenient
Our workshops offer total flexibility in terms of time and location. You can book a private group session at a venue of your choice or join one of their scheduled classes to make new festive friends - either way, it's a convenient and fun way to celebrate this yuletide.
Don't just stick to traditional Christmas party ideas; think outside of the box! Christmas wreath making workshops in London offer a unique combination of creativity, camaraderie and celebration, making them perfect for any festive gathering. Book your ClassBento workshop today and kick start the holiday celebrations in style!
Gift a unique experience
Pick a fun experience for them, or let them choose from our thousands of creative classes and kits.
Valid for 3 years.
card_giftcard Get a gift card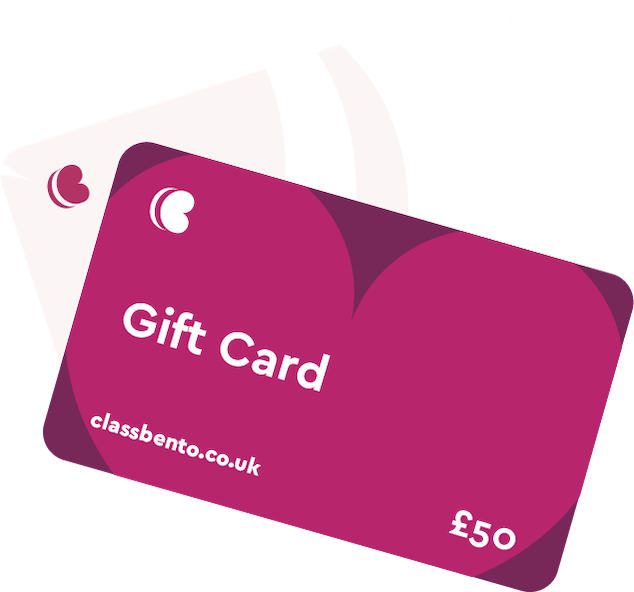 Christmas Wreath workshops in London