The festive season is upon us, which makes it the perfect time to explore our range of unique experience gifts in Glasgow – because what could be better than giving a gift with a twist? Instead of opting for the same old tired perfume, socks and chocolates, make this year truly special with one of our craft classes, art workshops or tasty culinary experiences! We've got a huge range of workshops; whether it's a secret Santa gift, a thoughtful present for a loved one, or even a treat for yourself, here are five great reasons why you should consider a Glasgow experience day for the 2023 festive season.
Make unforgettable memories
One of the best aspects of experience days is that they create lasting memories. In the heart of Scotland, you can find workshops that offer everything from DIY Christmas decorations to festive wreath making – as well as a range of tasty cooking sessions! Imagine the joy of creating your very own sparkly baubles or crafting a beautiful dried wreath that will adorn your home year after year. The memories you make during these experiences will be cherished forever, making them a truly meaningful Christmas present.
Unique experience gifts in Glasgow are extra thoughtful
This year, break away from the usual gift-giving routine and surprise your loved ones with something extra special! Experience gifts are incredibly thoughtful, showing that you've put time and effort into selecting a present that matches the recipient's interests. Whether it's a craft class for the creative soul or a mince pie baking workshop for the hungry foodie, we've got a variety of options to suit your mate, your date and your marvellous Mum!
An experience present is perfect for Secret Santa
Finding a Secret Santa gift can be a challenge, especially when you want it to be memorable without breaking the bank – which is why experience gifts are the ideal solution. They're often budget-friendly, but still provide an unforgettable experience that's way better than novelty socks or a box of biscuits! Plus, they come in all shapes and sizes, so you'll definitely be able to find something that they'll love. It's a win-win for everyone!
A Christmas craft class will spark festive creativity
The Christmas season is the perfect time to explore your creativity, and with our workshops you can really immerse yourself in the holiday spirit. From getting cosy at a DIY Christmas decorations class from M.Y.O to wrestling with greenery at a festive wreath session, these experiences offer a chance to get in touch with your artistic side and embrace the festive season in a brand new way.
You'll learn new skills
Christmas gift ideas that keep on giving are the best kind. With our craft classes and cooking workshops, not only will you enjoy a fantastic experience, but you'll also harness some fab fresh skills. Whether you're interested in learning how to bake mince pies to perfection or want to master the art of festive wreath making, these sessions offer the opportunity to develop your hidden talents. You'll leave with more than just a Christmas present or decoration; you'll gain valuable knowledge and expertise.
An experience gift means stress-free shopping
Christmas shopping can often be a stressful experience, but choosing experience gifts at ClassBento workshops simplifies the process. No more endless browsing through crowded stores or frantic last-minute purchases. With just a few clicks, you can purchase a unique experience that's sure to delight your loved ones. The convenience of online booking and printable vouchers means you can avoid the holiday shopping chaos.
You can all bond over DIY Christmas crafts
Christmas is a time for togetherness, and experience gifts provide an excellent opportunity for bonding. Consider booking Glasgow experience days for yourself and a friend or family member. Sharing an experience, whether it's learning how to bake mince pies or creating festive crafts, strengthens your connection and creates treasured moments. It's a wonderful way to celebrate the spirit of the season.
Give an experience as a gift for eco-friendly festivities
In a world where sustainability matters more than ever, experience gifts are an eco-friendly choice. They produce little to no waste and have a lower environmental impact compared to physical gifts that come with packaging and transportation emissions. By choosing a workshop at ClassBento, you're not only giving a unique Christmas present but also contributing to a more sustainable holiday season.
Pick from a huge selection of workshops
Our workshops come in a variety of options, making it easy to find the perfect experience gift tailored to your giftees hobbies and interests. Whether they have a passion for arts and crafts, a love of cooking, or an interest in DIY projects, there's something for everyone – from calming candle making and crochet classes to quirky metalworking and stone carving, we've got your back!
An experience day supports local creatives
By booking a ClassBento workshop, you're not only gifting an experience but also supporting local artists and creatives. Many of the workshops are led by talented individuals who are passionate about sharing their expertise. Your Christmas present contributes to their livelihood and encourages the growth of local talent, making the holiday season even more special.
This Christmas, why not embrace the spirit of the season with unique experience gifts in Glasgow? We've got a diverse range of opportunities to create cherished memories, explore your creativity, and learn new skills. These experiences are perfect for thoughtful Christmas presents, secret Santa gifts, or simply treating yourself to something special during this joyful time of the year. So, go ahead and make this holiday season unforgettable with the gift of experience!
Gift a unique experience
Pick a fun experience for them, or let them choose from our thousands of creative classes and kits.
Valid for 3 years.
card_giftcard Get a gift card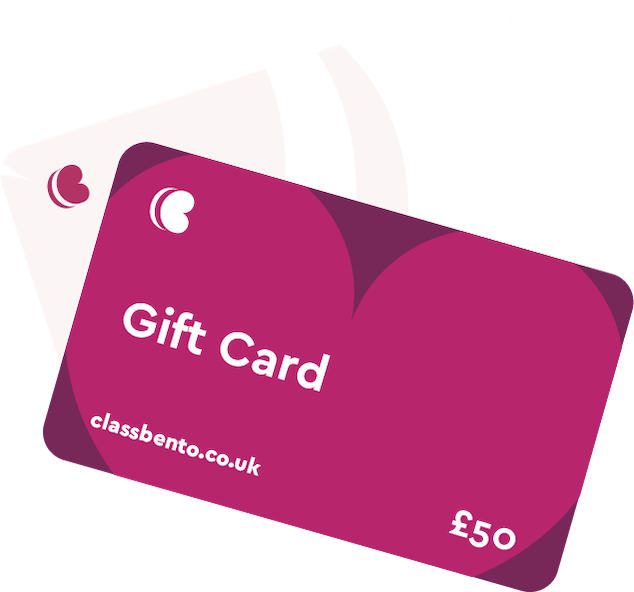 Suggested workshops in Glasgow